Advanced Smile Technology™
Empower braces feature self-ligating technology, which uses a clip to hold your arch wire in place instead of traditional rubber bands (ligatures). Rubber bands can stain and need to be replaced during adjustment appointments. Empower self-ligating clips are designed for quick, easy wire adjustments, meaning less time spent in our office and more time for you to enjoy the things you love!
Why choose Empower?
Low-force, low-friction brackets designed with contoured edges and a low profile make orthodontic treatment more comfortable
Self-ligating clips eliminate the use of rubber bands, allowing for quicker, easier adjustments
With interactive, passive, or a combination of the two with our Dual Activation™ System, Empower brackets offer precise movement and control
Empower Clear Braces
With Empower Clear braces, so you can feel confident to show off your smile while you're undergoing treatment.
Aesthetics – Empower Clear braces are made of strong ceramic material that blends beautifully with your teeth
Efficiency – The use of self-ligating brackets eliminates the need for elastics, which need to be replaced more often, and tend to stain and wear down over time
Comfort – Each bracket is sculpted with rounded edges, meaning a low profile and smoother surface against your cheeks and lips
We are committed to creating for you the beautiful, healthy smile you've always wanted. Contact our office to schedule an appointment, and see if Empower braces are right for you!
The clear way to amazing results!
Our self-ligating Clear and Metal brackets combine tie-less brackets and high-tech archwires that are clinically proven to move teeth quickly and comfortably with spectacular results. American Orthodontics Empower clear braces combine the best of traditional clear braces and efficient technology to deliver a discreet treatment experience with results that go beyond straight teeth.
Braces no longer mean inconvenience, discomfort, and a mouth full of metal.
Aesthetics
With American Orthodontics Empower, people may not even realize you're wearing braces. Tie-less Empower clear braces are discreet and resistant to staining and discoloration throughout treatment.
Treatment time
See results faster than you might think. While treatment times vary from case to case, treatment with Self-ligating brackets can be up to six months faster than traditional braces. Self-ligating brackets also require fewer office visits than traditional braces. That means more convenience for you, your family, and your lifestyle.
Comfort
Our Clear and Metal self-ligating brackets use tie-less brackets that don't need to be tightened and are gentle to the teeth and gums. Other styles of braces use elastics that bind archwires in place, which can cause pressure and discomfort.
The difference is clear!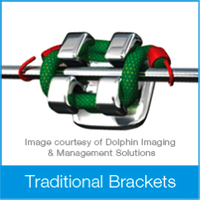 Traditional Brackets
Traditional braces use elastics, causing friction and pressure that act like parking brakes and can slow down treatment. In additon, the plastic color ties are food traps and become discolored in-between appointments.